The Lawrence Board of REALTORS® Community Foundation (LBOR Community Foundation) awards grants annually to support locally based charitable (501c3) organizations and their programs that create a stronger community through housing. Priority is placed on programs that help to stabilize vulnerable households and strengthen the housing sector. Requests for funding should be specific in their targeted use and should relate to the mission of the LBOR Community Foundation.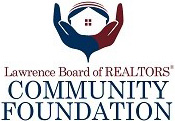 All funding requests received by the LBOR Community Foundation are reviewed after July 1, 2021.
July 1, 2021 - application period opens
October 31, 2021 - application deadline
November 12, 2021 - notification of funding
On or before December 3, 2021 - distribution of funds
Preference will be made to 501(c)3 non-profit organizations with an IRS Non-Profit Tax ID.
Funding will assist local organizations and financial awards must be used for programs ONLY in Douglas County, Kansas. 
Applicants who agree and will distribute funds in relation to the LBOR Community Foundation Mission Statement.
Individuals
Organizations that discriminate based on race, color, creed, age, sex, disability, marital status, religion, sexual orientation, veteran status, and national or ethnic origin.
Programs outside of Douglas County, KS.
The purchase of tickets or tables at special events, memberships, or advertising.
Political Campaigns
Endowment Funds
Criminal Fees
All Applications are subject to evaluation by the LBOR Community Foundation Board of Directors. A request to apply for funding does not guarantee that a grant will be awarded.
The LBOR Community Foundation has supported the following local 501(c)(3) organizations that support our mission, Mobilizing REALTORS® and Community Partners to stabilize housing needs within Douglas County: