REALTOR® & Affiliate Member Giving:
Members of the Lawrence Board of REALTORS® including Affiliate Members, can give back to the community we serve. The LBOR Community Foundation is a 501(c)(3) and all donations are tax deductible. The Lawrence Board of REALTORS® pays all administrative costs for the Community Foundation, which means that 100% of contributions received go to grant recipients!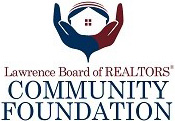 Gifts to the LBOR Community Foundation create Hope and produce Opportunity, Motivating and Empowering recipients toward self-sustainability at Home.
Hope - $500+
Opportunity - $250-$499
Motivation - $100-$249
Empowerment - up to $99
You can donate directly to the LBOR Community Foundation by contacting the LBOR Office at 785-842-1843, or by email at Admin@LawrenceRealtor.com.
Business Partners and Community Members can contribute to the LBOR Community Foundation in multiple ways.
Become an Event Sponsor, Participate in a Fundraising Event or Donate In-Kind & Raffle Items for Fundraising Events. Learn more on our Fundraisers Page, click here.
Shop via Amazon Smile, click here
Like & Share our Facebook Page or create a Facebook Fundraiser
Cash Donations
At our annual November Luncheon, The Lawrence Board of REALTORS® Community Foundation awards grants to local non-profit 501(c)(3) organizations that create a stronger community through housing and support our Mission Statement.