August 2023 Home Sales Statistics from the Lawrence MLS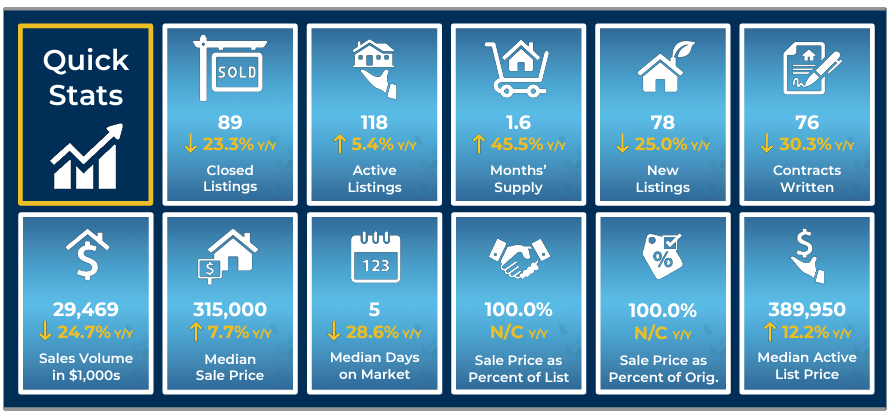 September 26, 2023
Lawrence Board of REALTORS® Releases Home Sales Figures for August 2023
Homes sales in the City of Lawrence fell by 23.3% in August compared to the prior year. Sales in August 2023 totaled 89 units, down from 116 in 2022.
Among existing homes, 83 units sold in August, a decrease of 27.2% from 114 units that sold in 2022. The average sale price of existing homes was $319,048. This represents a decrease of 4.7% from the August 2022 average price of $334,629.
For new construction, 6 sales occurred in August, up from 2 units the prior year, an increase of 200.0%. The average sale price of new homes in August was $497,950, up 2.7% from the same period last year.
A total of 76 contracts for sale were written in August 2023, down from 109 in August 2022. This is a decrease of 30.3%. Contracts written during the month reflect, in part, sales that will close in the near future.
The inventory of active listings in the City of Lawrence stood at 118 units at the end of August, which is up from 112 homes that were on the market at the end of August last year. At the current rate of sales, this figure represents 1.6 months' supply of homes on the market.
According to Brian Johnson, President of the Lawrence Board of REALTORS®, "Existing home sales have faced some headwinds, with a noticeable drop both in terms of the number of homes sold and their average prices. This could be attributed to various factors, including changes in buyer preferences and economic conditions. Buyers might be seeking affordability and the charm of existing homes, and as a result, we see some softening in this segment of the market. It's important for buyers and sellers alike to recognize these evolving dynamics. For sellers of existing homes, this may mean adjusting pricing strategies and ensuring that their properties stand out in the market. On the other hand, buyers might find opportunities to secure their dream homes at more favorable prices." 
For questions and/or comments, please contact LBOR President Brian Johnson at 785-220-5115 or bjohnson@askmcgrew.com.
Complete statistical summaries for Lawrence and Douglas County are available at http://www.lawrencerealtor.com/market-statistics/.
Three-Year Comparison Through August 2023