February 2023 Home Sales Statistics from the Lawrence MLS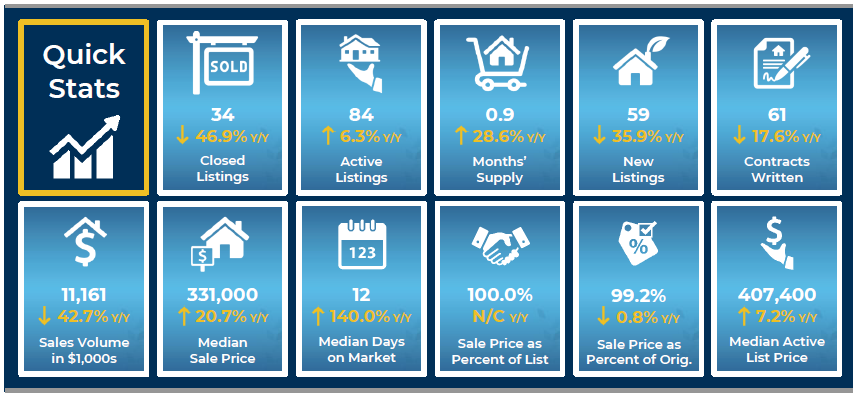 March 8, 2023
Lawrence Board of REALTORS® Releases Home Sales Figures for February 2023
Homes sales in the City of Lawrence fell by 46.9% in February compared to the prior year. Sales in February 2023 totaled 34 units, down from 64 in 2022.
Among existing homes, 30 units sold in February, a decrease of 46.4% from 56 units that sold in 2022. The average sale price of existing homes was $304,902. This represents an increase of 5.2% from the February 2022 average price of $289,861.
For new construction, 4 sales occurred in February, down from 8 units the prior year, a decrease of 50.0%. The average sale price of new homes in February was $503,425, up 23.8% from the same period last year.
A total of 61 contracts for sale were written in February 2023, down from 74 in February 2022. This is a decrease of 17.6%. Contracts written during the month reflect, in part, sales that will close in the near future.
The inventory of active listings in the City of Lawrence stood at 84 units at the end of February, which is up from 79 homes that were on the market at the end of February last year. At the current rate of sales, this figure represents 0.9 months' supply of homes on the market.
According to Brian Johnson, President of the Lawrence Board of REALTORS®, "The limited inventory of homes continues to impact the market. While fewer homes sold in February, there was still demand causing upward pressure on home prices. Both the median and average sale prices are up 8% and 9% through the first two months of the year. It's been 10 years since the number of homes sold was this low (January 2012 – 25 homes sold). We really need to expand housing options in our community. It's good to promote infill, but we need more options, and this starts with the City's willingness to extend service to areas requesting annexation. This market has been constrained for a number of years, and upward pressure on pricing makes for less affordable options for our community."    
For questions and/or comments, please contact LBOR President Brian Johnson at 785-220-5115 or bjohnson@askmcgrew.com.
Complete statistical summaries for Lawrence and Douglas County are available at http://www.lawrencerealtor.com/market-statistics/.
Three-Year Comparison Through February 2023