August 2022 Home Sales Statistics from the Lawrence MLS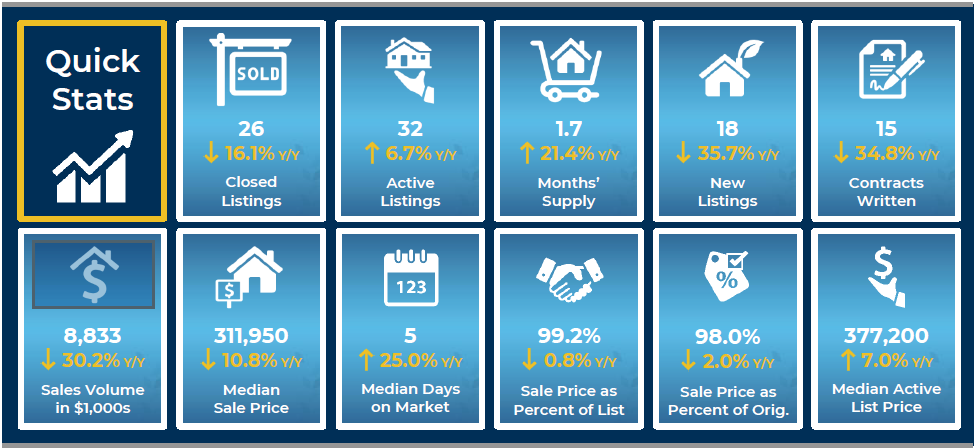 September 14, 2022
Lawrence Board of REALTORS® Releases Home Sales Figures for August 2022
Homes sales in the City of Lawrence fell by 10.1% in August compared to the prior year. Sales in August 2022 totaled 116 units, down from 129 in 2021.
Among existing homes, 112 units sold in August, a decrease of 5.1% from 118 units that sold in 2021. The average sale price of existing homes was $322,479. This represents an increase of 7.7% from the August 2021 average price of $299,371.
For new construction, 4 sales occurred in August, down from 11 units the prior year, a decrease of 63.6%. The average sale price of new homes in August was $749,975, up 104.6% from the same period last year.
A total of 106 contracts for sale were written in August 2022, down from 112 in August 2021. This is a decrease of 5.4%. Contracts written during the month reflect, in part, sales that will close in the near future.
The inventory of active listings in the City of Lawrence stood at 112 units at the end of August, which is down from 114 homes that were on the market at the end of August last year. At the current rate of sales, this figure represents 1.1 months' supply of homes on the market.
According to Lindsay Landis, President of the Lawrence Board of REALTORS®, "Home sales continue a trend with a decrease in the number of homes sold, while home prices climb due to the constraint on inventory. While we saw a brief improvement in inventory in August, we're back to a 1.1 months' supply of homes and what is needed to balance the market is a 4-6 month supply. To put it simply, Lawrence and Douglas County are not meeting the current demand for homes. It's a bit late to talk about being proactive, but we (as a city, county, and community) need to identify areas and take action for growth in all sectors for housing, including not only affordable and workforce housing, but market rate housing."
For questions and/or comments, please contact LBOR President Lindsay Landis at 785-760-0802 or Lindsay@LawrenceHomeFinder.com.
Complete statistical summaries for Lawrence and Douglas County are available at http://www.lawrencerealtor.com/market-statistics/.
Three-Year Comparison Through August 2022