The Info Hub, your newest Member Benefit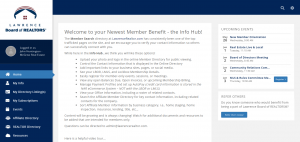 Your newest Member Benefit is here! We are excited to provide you with the Info Hub at the newly updated Lawrencerealtor.com. All Members may now access the Info Hub by simply following the steps (available to you on this Helpful Handout to create their personal account.
The Member Search directory at LawrenceRealtor.com has consistently been one of the top trafficked pages on the site, and we encourage you to log in now to verify your contact information so others can successfully connect with you.
While you are in the Info Hub…we think you will like these options!
Upload your photo and logo in the online Member Directory for public viewing.
Control the Contact Information that is displayed in the Online Directory
Add important links to your business sites, pages, or social media.
See your LBOR, LMLS, and Lockbox Membership Details.
Easily register for member-only events, sessions, or meetings.
View any open Balances Due, Open Invoices, or upcoming Membership Billing.
Manage Payment Profiles and set up AutoPay (credit card information is stored in the NAR eCommerce System – NOT with the LBOR or LMLS). 
View your Office Information, including a roster of related contacts.
Search the Affiliate Member Directory for key contact information, including related contacts for the company.
Sort Affiliate Member information by business category, i.e., home staging, home inspection, insurance, lending, title, etc…
Content will be growing and is always changing! Watch for additional documents and resources to be added that are intended for members only.
Start now with the Info Hub by making sure your profile is complete and update-to-date, so others can successfully connect with you. Then explore the site and have fun with your members-only access. Questions can be directed to Admin@LawrenceRealtor.com.
And as always, thank you for your membership with the Lawrence Board of REALTORS® and the Lawrence Multiple Listing Service.