June 24, 2021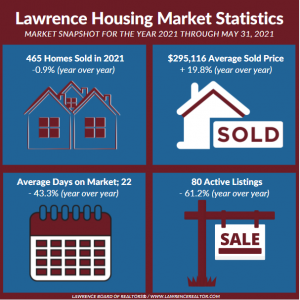 Home sales in the City of Lawrence rose by 25.2% in May compared to the prior year. Existing home sales increased by 35.0%, while new construction sales dropped 40% for the month.
Still a big part of the story, the inventory of active listings in the City of Lawrence stood at just 80 units at the end of May, which is down from 206 homes that were on the market at the end of May last year.
According to John Huntington, Jr., President of the Lawrence Board of REALTORS®, "Buyers are still outnumbering the houses available for sale."
For a complete report on May home sales, please go to Market Statistics.