Recently, LBOR Legal Counsel Danielle Davey was asked about Kansas Law and the legal considerations for real estate professionals when audio or video surveillance devices are present on a listed property.
Hidden Cameras & Audio Recording in Real Estate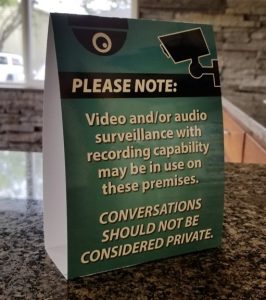 Smartphones and wireless cameras make it easy for homeowners to keep an eye on their property. But when that home is listed, real estate professionals need to know the legal considerations when surveillance devices are present on a property.
Kansas Law
Video surveillance is generally permissible.  However, it is a criminal offense to use a concealed camera to secretly photograph or record a person who is in a state of undress, or under or through their clothing, without the consent or knowledge of that person, where there is a reasonable expectation of privacy.  KSA 21-6101(a)(6).  This is most commonly applied to prohibit recording in restrooms.
Audio recording is permitted in Kansas so long as at least one participant in the conversation consents to the recording.  This extends not only to recording but to the use of any device which would allow a party to hear, amplify or broadcast sounds which would not ordinarily be audible without the use of the device. KSA 21-6101(a)(1), (4).
Best Practices for Sellers Agents
Require Sellers to disclose recording devices at the time of listing.
Be very cautious with audio recording.
One-party consent requires that the consent comes from one of the parties participating in the conversation.  Recording a conversation between an interested Buyer and their Agent when the Sellers are absent may not comply!
If a Seller is recording, give notice!
Include in the MLS.
Post a conspicuous sign during showings.

*Providing clear notice may constitute implied consent for recording.
Educate your Sellers
Warn Sellers of the limits of permissible recording and the need for disclosure.
Educate Sellers about Fair Housing.  They may gain information that they may not legally consider by recording.
Best Practices for Buyers Agents
Notify Buyers of any known recording devices prior to showings
Counsel Buyers to assume they are being recorded during showings
Wait until after you leave the property to discuss interest in the property and any potential offer.
View this helpful video from the National Association of REALTORS®.
Download the Best Practices Guide from the Lawrence Board of REALTORS®.
PDF - Download Here